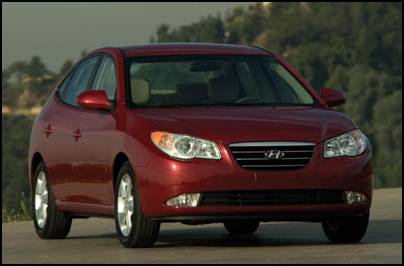 Completely new for 2007, the Hyundai Elantra comes with better fuel economy and a sharper style. It's mileage is impressive: 28 in the city and 36 per gallon on the highway. This fourth generation of the Elantra is in a difficult position with many other cars like it to compete with, but it pulls to the front of the line in two areas: space inside, and safety.
The Elantra can seat up to five passengers, but it's still more comfortable if you only put in four. The back seats have lots of room for the legs and hips. It drives well, normally, but on the freeway can get into the bumps as speed goes up. It may not be perfect in every way, but it's still a cheaper choice when faced with its very similar competition from Honda and Toyota.
The brakes are fantastic and among its other safety features come four-wheel anti-lock disc brakes with electronic brake-force distribution. It also has frontal and front side-impact airbags, side curtain airbags, and active head restraints in the front. EPS isn't available in this model, but it does come with 24-hour roadside assistance. For the environmentally aware, the Elantra also comes in a PZEV model, which produces what the government calls "Partial Zero" (very low) emissions. This has an automatic transmission and you can get it in any of the available models.
Cheers,
Fashun Guadarrama.
About the Author: Austin-1