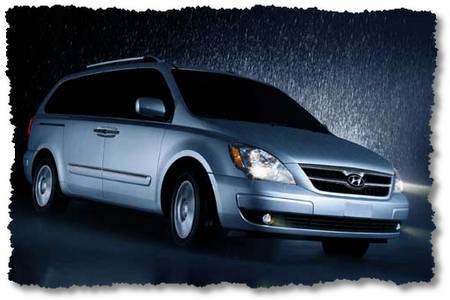 The 2007 Hyundai Entourage has sturdy looks and for this reason might be a little less desireable than other minivans that are much more sharply designed and are in the same price range. But don't let this minivans looks throw you off of the wagon, because it does have a lot of positive qualities that make it a good choice for a minivan. It may be similarly priced to other vans, but it gives you a lot more for your dollars than its rivals might, with plenty of features and a long warranty that will hold you over until you're ready to buy a new car.
There is something to be said about the simplicity of Hyundai Entourage's design, and it might be that people who don't care too much for flashy, fancy cars might be more attracted to this minivan that focuses on other aspects. Its seats are both comfortable and steady, and it doesn't hurt to take them for a long ride. It rides silently, even on fast highways, with no engine noise and little wind noise entering into the cabin. The brakes are responsive and it handles well, and while you'll have few problems with this reliable car, the extended warranty is there to catch you if you do.
If you make the choice to couple your engine with the automatic transmission, though, you'll find that the minivan starts to accelerate very slowly, although once it gets up to speed it moves along steadily. Cruise control, a feature that even the cheapest cars tend to come with standard, is not even an option on the 2007 Hyundai Entourage. When it comes to bumps and less smooth road areas, the ride is jerky.
Cheers,
Fashun Guadarrama.
About the Author: Austin-1