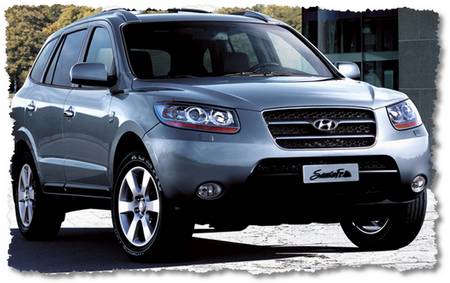 In the 2007 model year, the makers of the Hyundai Santa Fe took it apart and put it back together all anew. Even with the changes, there is still not much improvement to be seen in this Hyundai sports utility vehicle. The changes include several new designs, and although there is unmistakable betterment in things like safety, luxury, and power, all the king's men still have a long way to go with this vehicle. It is still a pretty intelligent choice in the mid sized SUV range of cars, and it's stylish and cheap, so even with its drawbacks makes it to among the tops of the list in 2007.
The interior is well designed and decorating, dripping luxury with its rich materials that don't cut back on the view. It is priced well, challenging the higher prices of many of its rivals and allowing some features that might only be seen standard in the luxury class trickle down to bargain prices. The warranty is extended for a long time to cover any problems you might have with the vehicle, and to prevent any problems, at least when it comes to collisions, the 2007 Hyundai Santa Fe is well loaded with safety features. To add more room for passenger seating, you can also elect to add a third row bench seat.
The Hyundai Santa Fe comes with several trim levels, and each has its specific problem. For the SE and Limited options, the car drives a little too stiffly, making the driving experience a lacking one. The automatic transmission is sluggish, and the brakes are unresponsive.
Cheers,
Fashun Guadarrama.
About the Author: Austin-1