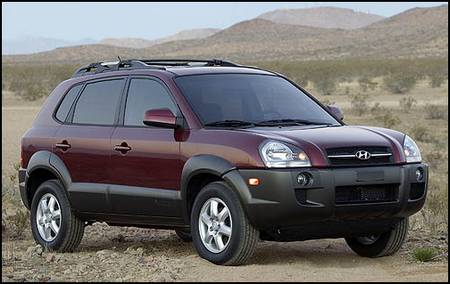 The Hyundai Tucson goes along with Hyundai's trend of turning out great options in the market of sports utility vehicles and other larger vehicles. This SUV comes at a great price, and has many other valuable aspects as well, making it one of the best options among compact SUVs and astounding its rivals. It offers plenty of safety features both standard and optional, a definite need on the more dangerous class of cars that is an SUV, and it also comes with a great warranty, as many Hyundais do, in case you should counter any trouble along the way.
The warranty is definitely one of its best aspects, because it helps increase the reliability of any already reliable vehicle. It also has the long list of safety options, but in addition to that it adds a roomy interior and a great overall design that makes it interesting to look at and climb in. Some of the materials used in that design are poor, although they don't look to be. The engine is sub par, and the V6's acceleration and all of the other engine choice's are less than average.
There are a few changes for the 2007 Hyundai Tucson, and the one that will probably be the favorite among bargain buyers is that the price was lowered by a whole thousand dollars. Just watch out when you go to the car lot to make sure that doesn't get wiped out by high interest and fees. The SE and Limited trim levels now come with dual-mode trip computers, as well as an improved sound system and more comprehensible controls. There's a new CD changer now, too, and MP3 capability has been added.
Cheers,
Fashun Guadarrama.
About the Author: Austin-1