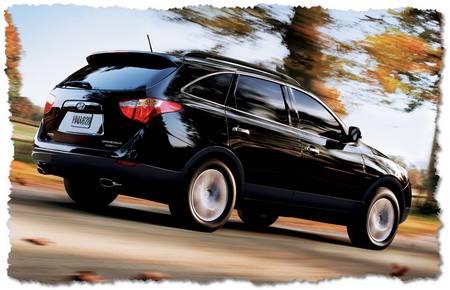 The powertrain on this 2007 Hyundai Veracruz has been well designed, making the performance of the Veracruz one of the best among its class and a great choice for buyers of sports utility vehicles everywhere. Its interior is beautifully crafted, improving on the comfort of the driving experience, and making it to where you won't be ashamed to take your friends and co workers riding around in this great SUV. In an area of the auto industry that has so much competition, the 2007 Hyundai Veracruz takes all of its positive aspects as well as a great price and fights for its well-earned position.
Built well and with materials that certainly aren't cheap, this SUV is both strong and durable on the interior and exterior. Even if you do encounter problems, though, the warranty is pretty long to work as a parachute for you to float down on. A lot of features come standard, more than the usual, and the options are extensive and relatively cheap. A third row seat isn't even an option, but comes standard. Still, although the interior design is mostly great, in the front part of the cabin it loses its flavor, and the lack of an option for a navigation system diminishes the value of this car.
There are three trim levels to the 2007 Hyundai Veracruz, all at great prices, and they are the GLS, which comes with
seventeen inch alloy wheels
AC
seven passenger seating
tilt and telescope wheel
cruise control
keyless entry
Then there is the next level up, which is the SE, and it makes an addition of
eighteen inch alloy wheels
power driver seat
automatic headlights
auto-dimming mirrors
Last of all is the top level, the Limited, which offers
leather seating
power passenger seat
heated front seats
CD changer
sunroof
power tailgate
Cheers,
Fashun Guadarrama.
About the Author: Austin-1