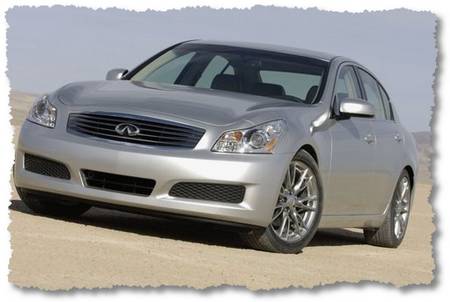 The 2007 Infiniti G35 is a good car, a decent car, but not an outstanding one, and compared to the BMW 3 series it simply isn't deserving of the accolades given to the top performers of its class. It does have power, though, and is spacious and quick, and nimble as well, but there is simple no true feel in this sedan, making it hard for you to really enjoy the driving experience because there is not enough bang to help you get into it. Still, the G35 does beat over the 3 series in one important way–the price. It offers several good qualities while costing several thousand dollars less than the BMW price.
The V6 engine provides one the greatest of the aspects of the 2007 Infiniti G35, being a powerful engine choice that provides for a steady ride, lacking problems of vibration or noise. It handles well and is very balanced, to top it off, and the price is enough to attract the eye of any buyer looking for a good car, although not a perfect one. One of its better qualities is simply the amount of room in this vehicle, making it a good choice with people who need space for cargo or passengers, and it also comes with very responsive brakes.
If you get one of the trim levels that comes with sport suspension, then you'll find that the ride is firm, a quality that tends to be attached to many vehicles released by the Infiniti name. Although there is a good amount of storage area in the sedan, if you opt for the coupe body style you'll find the trunk area too small. The steering is a little sluggish to respond and just feels fake when it comes to quick reactions.
Cheers,
Fashun Guadarrama.
About the Author: Austin-1