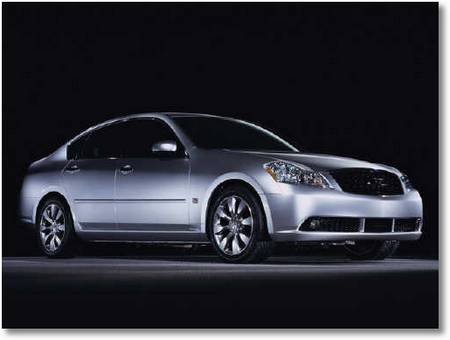 The 2007 Infiniti M series is a clue up to all of the other car makers of the world that Japanese manufactures are learning their lesson, and the cars that they produced that already had many advantages in size and economy are now learning to fight with the bigger kids. Granted, the M45, a mid size car with aerodynamic shape, doesn't look very aggressive, but wait until you get behind the wheel. It starts off with a growl, housing the most powerful V6 it can, and only upping the ante in the extended version with the V8. Besides looking good, it also includes several safety features that make the pleasurable drive a worriless one. However, if you live in a place that's wet and/or snowy, keep an eye on their tires. Made perfect for drier terrain, they're pretty much useless with some moisture thrown in.
The Infiniti M35 starts off the series at a price of just over forty thousand dollars. It's got a V6 engine with a full 275 horsepower, and for five thousand dollars more, you can get the M35X, which comes in all wheel drive. They also include
driver's seat that adjusts ten different ways
six speaker sound system
six-disc CD changer
Bluetooth
Brasilian Rosewood trim
voice activation
LCD screen
18-inch wheels
Then there's the M35 Sport, with which you can get aluminum interior trim, some high level xenon headlights, and an adaptive front lighting system which actually swivels the lights when you turn.
The next level up is the M45 and M45 Sport, both falling pretty close around fifty grand. The only difference between them and he M35 versions is that they have a V8 engine with 325 horsepower. Safety features that come in all of them are skid management electronics, airbags, and ABS. You can also add lane departure warning system, a rearview mirror camera, and pre-crash seatbelts. The M series rated 'good' in crash testings, the highest rating.
Other options include:
XM/Sirius satellite radio
DVD player
rear spoiler
18-inch chrome wheels
Cheers,
Fashun Guadarrama.
About the Author: Austin-1