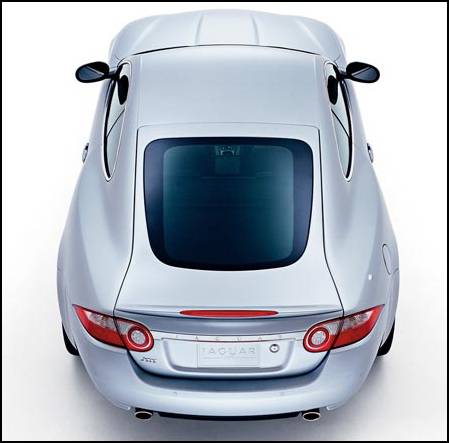 Just a look at the back on the Jaguar XK Series, new in 2007, brings to mind the future, and that's true to form. The XK is the epitome of car evolution, with new flairs and designs for the future while it still holds tightly to its roots back with the very first XK way back in 1948. With the typical style of a British luxury car–the wood, the leather, the comfortable silence–this tasty update now comes with both coupe and convertible, and the convertible now offers a top that disappears under the second row of seats instead of being piled up under a tonneau cover.
Not only does the 2007 version offer more space than the 2006 one, but everything pretty much just works better. The steering is more accurate and the brakes have more power, and with the latest adaptive suspension the ride is smooth and the cornering scandalous.
Both versions of the XK come equipped with a 300 horsepower V8 engine and a six-speed automatic transmission. Equipment that comes standard with both coupe and convertible includes such features Bluetooth technology, keyless entry and start, cruise control, a 6 CD-changer and MP3 player, and a seven inch video display. Don't get me started on the options. Okay, they're
adaptive cruise control with a forward-alert system and audible warning
soft leather upholstery
520-watt Alpine sound system with, count 'em, eight speakers
And since you know you're going to be driving a little faster than usual in a Jaguar, and maybe paying a little more attention to one of those six CDs or the wind racing over your head (be careful! but we're facing the facts, here), it's good to know what kind of safety features the car comes with, right? Right.
air bags in front and on the side
ABS with EBD
traction control
dynamic stability control
track feature
two rollover bars that stabilize the rear (not on the coupe)
electronic rollover mitigation
What's not to like?
Cheers,
Fashun Guadarrama
About the Author: Austin-1