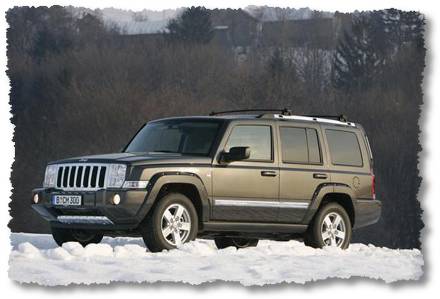 The 2007 Jeep Commander is well designed to resemble its name. Just looking at it, you can see that it has more of a military style than most Jeeps, which is saying something, considering that their squarish, strong designs seem to be the name brand of the army. And this car is a model of strength, too, with heavy duty V8 engines offered and great capabilities both on and off the road. Still, although it may work for awhile, it is only spottily reliable, and the interior is badly designed, making it a somewhat unsure choice among mid sized SUVs.
One of its most positive aspects are the V8 engine choices, which make for great performance ability. It is more able than many SUVs when it comes to taking it off the road, and it blocks out wind and engine noise very well. It has plenty of top of the line features, both standard and as options. On the other hand, the third row seat is too cramped to fit adults comfortably and thus only useful for children, and the power of the V8s is compromised by the amount of gas that they suck up.
The 2007 Jeep Commander actually is the old Jeep Overland with a few changes for the 2007 model year. Some of them are only shallow changes, including making the name for the base model of the Jeep Commander to be 'Sport'. But there are actually some other, more substantial modifications.
5.7 V8 engine comes standard
eighteen inch wheels later in the model year
different trim inside and out
flex fuel option for 4.7 liter V8
power liftgate
rearview camera
Cheers,
Fashun Guadarrama.
About the Author: Austin-1