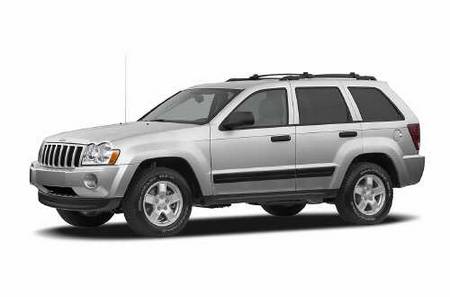 The 2007 Jeep Grand Cherokee would make an intelligent choice if you are looking for a good mid sized SUV that you can rely on and that has quality. It is great when it comes to handling off the road conditions, and it also doesn't skimp on engines, with a wide range of choices for those who care more or less about power and performance. It definitely brings some competition to its class, being one of the better picks of this model year.
When it comes to engines, not only are there different engine types, but you can also choose between either a diesel engine or a flex fuel engine. If you get the SRT8 trim level, then you can bet you won't be let down when it comes to the aspect of performance. With capable ability off the road and comprehensible controls, the Jeep Grand Cherokee has a lot too like. Still, the back seat area is too small for adults and if you get the V8 engine you'll be paying more than normal for gas. Though it performs pretty well off the road, you'll want to avoid potholes and ruts, because it does jump.
A few changes have been made for the 2007 model year on the Jeep Grand Cherokee. Two years ago it was redone top to bottom, so this year it only has a few moderate difference to be effected. With more options when it comes to power train and the additional option for a diesel engine and a flex fuel V8 engine that works with both gasoline and E85, you'll be lad for your options. Also added are extra features that come standard, both luxury and safety.
Cheers,
Fashun Guadarrama.
About the Author: Austin-1