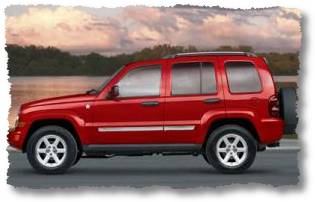 If you are looking for an SUV that you can drive freely around city or suburban streets, never getting it the slightest bit dirty and just using it for things like going back and forth to work and school, then you'll probably find that the 2007 Jeep Liberty doesn't suit you. You'll want, instead, to look at other options in the market, because in being practical, the Jeep Liberty's competitors offer quite a bit more.
The Jeep Liberty just isn't that kind of car. In fact, it is made for wild riding. This is a sports utility vehicle that actually lives up to both the words sport and utility (and obviously vehicle), making comfortable and hardy off road traveling and fun a possibility for a low price. This compact SUV is ready for all types of terrain and driving conditions.
Not only does it take to the areas farther off the paven road very well, but the Jeep Liberty is also ready to take whatever you throw at it or hook onto it. It has plenty of cargo area, and a very large capacity for towing, so if you run out of room inside feel free to connect more to the back. The V6 engine that it offers, though, laps up gasoline like there's no tomorrow, so be prepared to be paying a lot out of pocket to fill up your tank. Unlike others in its class, which seem to be moving more and more close to being like cars, the Jeep Liberty is firmly a compact SUV and doesn't compromise.
Cheers,
Fashun Guadarrama.
About the Author: Austin-1