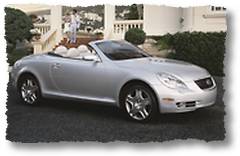 The 2007 Lexus SC 430 is largely a comfort car, meant for pleasure rides around the countryside or in the middle of the night. It's for going out of town to have fun, not for business or every day life. The Lexus SC 430 is a nice thought, but not a workable car on a day to day basis. It's for the people who can afford to have a car that they don't really need or use, but if you are looking for a car that you intend to be driving on a regular basis, then you should opt for something more practical than this classy convertible.
A couple of additions have been made in the 2007 model year for the Lexus SC 430, and those additions include
knee airbags for both the driver and front passenger come standard at all trim levels
occupant detector for the front passenger seat, which works for the seatbelt light and airbag deactivation
There are several pros and cons about the 2007 Lexus SC 430. Some of the good aspects are:
the hardtop goes back, making it into a convertible
the V8 engine has power but runs silently
it's a Lexus!
However, there are lots of drawbacks with this flashy vehicle.
nowhere to store anything, your legs included
not much space in the back seat
performance lacks the power of most sports cars
Cheers,
Fashun Guadarrama.
About the Author: Austin-1