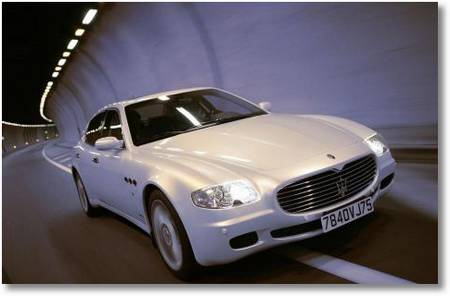 The 2007 Maserati Quattroporte, a visitor from Italy, is curvy and well made, finally the kind of sedan coming from Italian shores that the American driver can enjoy. This high performance sedan stands against the competition from other foreign imports as well as standard American cars, offering a slick automatic transmission that puts others to shame as well as a softened adaptive suspension that works together with everything else under its hood to contribute to some great performance. All of this, for a pretty hefty price. In 2007, though, Maserati has really adapted for an American market.
The positive attributes of the 2007 Maserati Quattroporte:
unique design of the interior and exterior
handling and driving dynamics are competent and arrogant
newly made automatic transmission
pretty scarce on the roads
All the same, all of the above should be taken with consideration next to the less positive aspects of the Quattroporte:
it's very expensive
less powerful than its competitors
Lots of changes and additions come with the 2007 model year, not only the new transmission and suspension. There are also a new grille design as well as an updated center console, which has a new auto gear selector. There have been a few changes made to the 4.2 liter V8 engine when it comes with the automatic transmission, and as a result it is quieter and better on fuel. There are lots of new color options, both for the inside and outside of the Quattroporte, and it is now offered in trim levels Executive GT and Sport GT.
Cheers,
Fashun Guadarrama.
About the Author: Austin-1