Summary
2007 Maybach 57 is a luxury sedan that can seat five passengers. It has four doors.
Price
MSRP: US$335,500
Invoice: Not Listed
What is New in 2007 Maybach 57?
There are no specific overall changes to 2007 Maybach 57 model. However, you can customize your car and therefore every model could have new additions.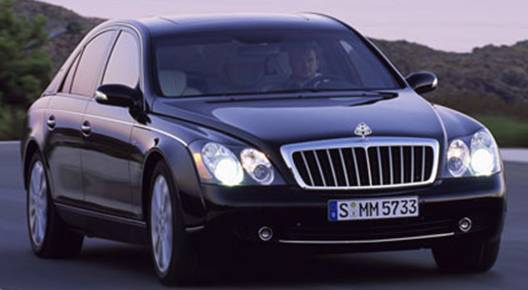 Introduction
2007 Maybach 57 is overtly luxurious with most modern features, design, and style. Yet, it does not create exclusive visual impact.
Body Styles, Trim Levels, and Options
2007 Maybach 57 is available in single trim of Sedan. You can include any options you wish to have in your car in your chosen model.
Powertrains and Performance
2007 Maybach 57 offers standard 543hp 5.5-liter V12 turbo engine with five-speed automatic transmission and overdrive. It delivers 12-mpg in city and 17-mpg on highway.
Interior Design and Special Features
Interiors are exorbitantly luxurious. Features include separate air-conditioning systems for front and rear passengers, rear passengers can control their environment through button-laden center console, workstation tables for rear-seat passengers, reclining rear seatback, and detailed leather and wooden styles on seats.
Safety Features
Standard safety measures include stability and traction control systems, front and side airbags for passengers in front and rear and side curtain airbags.
Driving Impressions
Powerful engines help maneuver huge weight of these vehicles. Driving is a pleasure.
Pros
Powerful engines, luxurious interiors
Cons
Too expensive and too heavy
About the Author: Austin-1