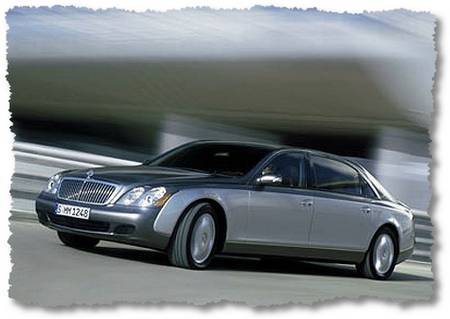 The 2007 Maybach 62 rises almost to the top of its class of ultra-luxury sedans, just barely failing to knock the Rolls Royce Phantom out of the number one spot. But that is no reason to fault this fantastic car, because it is definitely one of the best. Drowning in luxury and so well crafted that you can almost smell the price tag, the only real area in which this sedan is lacking is the price tag. It's plenty spacious on the interior, but its size and weight make it difficult to drive in traffic.
There's not much new this year for the Maybach 62 except for the addition of a higher powered trim level, the 2007 Maybach 62 S, which has several attributes which set it apart from the base levels of the Maybach 62, such as different hues on the interior and exterior. The S comes with several features that you can add on to it, such as:
back seat for three
glass partition
intercom
better entertainment options
The Maybach 62 is a lot like the Maybach 57, though it is longer and and more tailored to be a car which will be driven almost entirely by a chauffeur. It is very well equipped with features, such as nineteen inch wheels and Airmatic DC suspension. The doors power close and the sound system (and it's amazing how they fit this many) has twenty one speakers.
You can add the Business Package to the 2007 Maybach 62, which will give you Bluetooth connectivity and wireless internet. You can also check the factory options list and make personalized requests when it comes to interior and exterior coloring.
Cheers,
Fashun Guadarrama.
About the Author: Austin-1