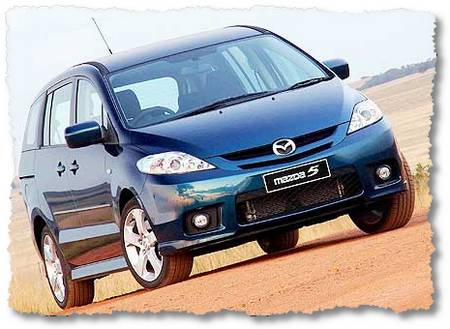 A lot of small families tend to opt for the bigger sizes in sports utility vehicles in minivans, because cars simply don't offer everything that a family needs in a vehicle. However, for those who need something bigger and more family-oriented than a car, but also don't need everything that the larger vehicles have, the 2007 Mazda 5 offers a sparkling alternative. It is a truly miniature minivan, and makes a compromised between the smaller and larger levels of vehicle.
There's a lot of good to say about the 2007 Mazda 5, and here's a list to start:
bargain pricing
lots of features to offer, both optional and standard
handles with agility
does great on gas, especially for the minivan class
However, it does come with some drawbacks, but there have been a few improvements for the 2007 model year, such as the trim level called the Grand Touring, as well as features like leather upholstery, heated front seats, and HID headlights. Still, the negative aspects of the Mazda 5 should be considered:
if you fill it to capacity, or near there, with passengers and cargo, the performance deteriorates
the third row has little room and can only take small children
no option for electronic stability control
Cheers,
Fashun Guadarrama.
About the Author: Austin-1