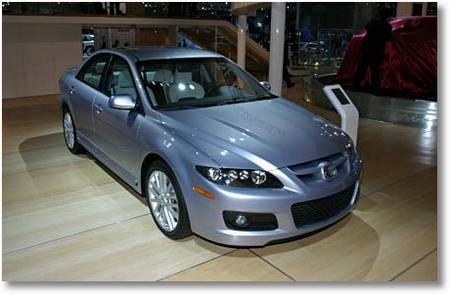 The 2007 Mazda Mazdaspeed 6 was an addition to the Mazda 6 model from 2006, and though it hasn't made any changes, it is still an excellent innovation within that model. It offers qualities that wouldn't normally be found in a car that costs less than thirty thousand dollars, with roaring performance and great handling that set it apart from other vehicles in its class. If you can't be persuaded away by things like heavy steering and brakes, then you'll find that this is an excellent choice, especially if you need some room in the rear seating area.
The good:
great balance
tight turns
durable brakes
well-powered and performing engine
well-crafted design
The bad:
no option for an automatic transmission
engine's power band loses it before it hits the red line
steering and clutch on the heavy side
no folding backseat
The 2007 Mazda Mazdaspeed 6 fits into the class of midsized sports sedans, and it comes in two trim levels, the Sport and the Grand Touring. There are several options and packages that can be added for a little extra price, and some of the best options include a navigation system, an auto dimming rearview mirror, a moonroof, and Sirius Satellite radio. The Sport trim level comes standard with:
eighteen inch alloy wheels
cruise control
automatic climate control
xenon HID headlights
sport seats
six-disc CD changer
tilt and telescope wheel
The Grand Touring trim level comes with the following standard:
leather upholstery
heated front seats
keyless ignition
The 2007 Mazda Mazdaspeed 6 is also on the top of its class as concerns safety, packed with several of the latest safety features. It scored well in crash tests, both from the National Highway Traffic Safety Administration and the Insurance Institute for Highway Safety, getting five stars and a rating of good, respectively. It comes equipped with antilock disc brakes, seat mounted airbags, whiplash-reducing front seats, and electronic stability control.
Cheers,
Fashun Guadarrama.
About the Author: Austin-1