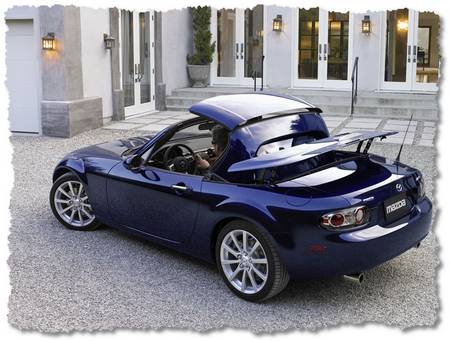 There is a lot of competition between the 2007 Mazda Miata and its more formidable foes over at General Motors, but the competition will not be won easily by either side. The guys at General Motors put out sleek roadsters with great design and confidence, but the 2007 Mazda Miata has a few things going for it, too. It may not come up against the General Motors cars in those categories, but this little roadster holds its own when it comes the fun of the drive and the long list of features.
The Good:
lots of fun to drive
starts off cheap
steers and handles with precision
great fuel efficiency
low maintenance costs
The Bad:
a little tight for anybody who's on the larger side
electronic stability control only comes in the top trim level
The 2007 model year brings about some changes, and big ones, too, even after the total redesign in 2006. Added is a trim level with a retractable hard top, and the trim levels that it already had are changed up and get new names, thanks to the new SAE power-rating standards.
The 2007 Mazda Miata isn't exactly overflowing with safety features, which might be some more safety-minded drivers off of this flashy little car. It does manage to equip itself with side air bags and antilock four wheel disc brakes as standard, and it also comes with options for electronic stability control, though only in the top trim level. Both of the higher two trim levels allow for run flat tires to be added on, and if you get those, you also get a tire pressure monitor.
There are four trim levels for the 2007 Mazda Miata. The lowest, the SV, comes with the following features standard:
soft top (no hard top available for this level)
black vinyl top
16-inch alloy wheels
CD player
The next level up, the Sport, adds:
air-conditioning
leather-wrapped steering wheel
Then there's the Touring level, which makes the addition of:
17 inch alloy wheels
cruise control
strut tower brace keyless entry
six speaker sound system
At the top of the line is the Grand Touring trim level, with:
leather upholstered seats
heated seats
parchment cloth top
one extra speaker
Cheers,
Fashun Guadarrama.
About the Author: Austin-1