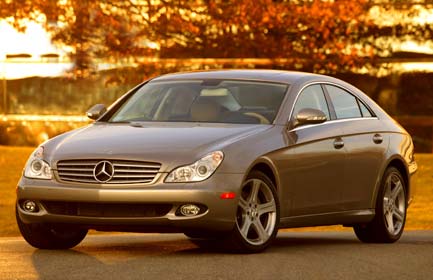 Before considering purchasing the 2007 Mercedes Benz CLS Class, you should decide what exactly it is that you are looking for in a car. This four door coupe could meet your expectations, but it could not. If what you have in mind is a coupe that performs like a sports car, has a sweet style, and the four doors, of course, then the Mercedes Benz CLS Class could fit into what you are wanting. And if you want even more performance than in the general base model, don't forget to take a look at the CLS63 AMG, which brings a boost in that area.
The Good:
the exterior is designed to be sleek and stylish
great handling, as if it were much smaller
has a range of powerful V8 engines to choose from
The Bad:
loading into the back seat is a bit of an acrobatic feat
ceiling too low in the rear seat for tall passengers
controls hard to get used to, not user-friendly
For the 2007 model year, the main emphasis of change within the Mercedes Benz CLS model is power, and it gets an extra shot of that this time around. The V8 engine that comes in the base model has now gone up to 5.5 liters with 382 horsepower–that's 80 more horsepower since last year, a huge step up. Changes of this type come within all of the trim levels, and most especially in the special high performing trim level, the CLS 55 AMG, which is now the CLS63 AMG and has 507 horsepower in place of the 55's 469.
The four door coupe 2007 Mercedes Benz fits into the class of mid size luxury sedans, and it is offered in two separate trim levels, the CLS550 and the CLS63 AMG. Both come with several options, including a navigation system, "Drive Dynamic" seats (which give extra support depending on whether you're driving regularly or with extra performance), and several packages for other features and color tones. As for what they come with standard, the CLS550 is equipped with:
sunroof
full power accessories
four zone climate control
trip computer
six-disc CD changer
18-inch alloy wheels
As for the CLS63 AMG, the high performance trim level, it is the next step up and comes equipped with a little more, such as:
larger V8 engine
napa leather upholstery
19-inch wheels
heated sports seats
sport-tuned suspension
more power in the brakes
The 2007 Mercedes Benz CLS class also comes with several safety features to keep you under its wing while you're out on the road, even if you're driving the high performance model. The most innovative is the PreSafe system, a Mercedes invention which is standard to all models, which senses an accident before it happens and takes measures, such as tightening seat belts, adjusting the front seat so that it will be most protected by the airbag, and shutting the sunroof. Also included are side and curtain air bags, antilock disc brakes, stability control, and active front head rests.
Cheers,
Fashun Guadarrama.
About the Author: Austin-1