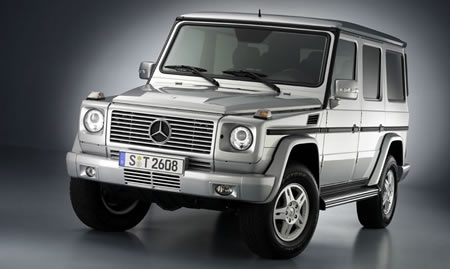 When looked at against the rivals in its class, it's true that the 2007 Mercedes Benz G Class doesn't have a lot to offer in comparison. Next to its competitors, it is less powerful, performs less well, and lacks the sheer luxury and class that come in the level of luxury sports utility vehicles. That doesn't mean that it is entirely without superior qualities, though. Anyone who is attracted to the G Class is probably that way for one main reason–style. And the G Class definitely does bring it in this area, with a box shaped looked that make it seem like both retro and forward moving.
The Good:
silent drive, even on the highway
equally excellent off and on road ability
V8 engine packed with power
The Bad:
resistant steering
not a lot of space for storage
heavy on the accelerator pedal
takes a lot of gas
doesn't have great ergonomics
This the 28th year that the Mercedes Benz G Class has been on the market, and in the 2007 model year it isn't getting changed a lot. A few things have been buffed and others added, including some LED-look taillights and a four spoke steering wheel, redesigned dash controls and control cluster on the interior. New standard features for all trim levels are the bi-xenon headlights and satellite radio. Twenty four more in horse power was added to the engine of the G55 AMG, and the G500 lucks out with a new seven speed automatic transmission. TeleAid telephone controls have been taken off the list entirely.
The 2007 Mercedes Benz G Class, which is a luxury SUV that seats five people, comes in two trim levels: the G55 AMG, its high performance level, and the base level of the G500. The G500 starts things off with the following standard:
bi-xenon headlamps
running boards
corner illuminating foglamps
sunroof
dual zone automatic climate control
rear park assist
navigation system with COMAND interface
power tilt and telescope heated wheel
nine speaker sound system
satellite radio
six-disc CD changer
The G55 AMG comes with all of the great features that are listed above, but takes things up a notch by adding the following:
bigger brakes
wider tires
front and rear light guards
designo leather and wood trim
dual side-pump chrome exhausts
Where the 2007 Mercedes Benz G Class really lacks, though, is in the class of safety features and equipment. It has nowhere near the amount of standard or even optional safety features that most modern cars come with, and it reaches the bare minimum only with full length side-curtain airbags, rear park assist, anti-lock brakes, and stability and traction control.
Cheers,
Fashun Guadarrama.
About the Author: Austin-1