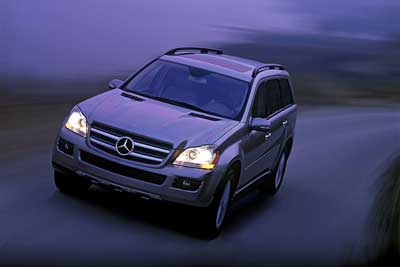 Lots of sports utility vehicles have been trying as hard as they can to drive and handle as much like a car as possible. The 2007 Mercedes Benz GL Class takes this new crossover mentality as far as it has ever been before. A full sized SUV, the GL Class drives like a compact car, and it puts other SUVs that are trying to reach this ideal to shame. Not only that, but there are several other positive things about it, most especially the low price that will make it a great deal.
The Good:
silent interior during drive
accelerates ferociously if you get the gas V8 engine
great fit and finish
lots of luxurious features standard and optional
very comfortable
great fuel efficiency with the V6 engine
The Bad:
the ride is okay, but a little too loose for some people
With its surprising heavy leaning towards good qualities rather than bad ones, the 2007 Mercedes Benz GL Class is a new release for the 2007 model year. It will have a couple of changes towards the end of the model year, such as diesel V6 engine that is better on fuel economy. For the moment, though, it is a full sized luxury SUV that contains space for up to seven passengers, plenty of features, and a powerful V8 engine with 335-hp.
The 2007 Mercedes Benz GL comes in two trim levels, the GL320 CDI and the GL450. There are several options that can be added on to either one, such as nineteen inch wheels, full leather upholstery, and a rear seat entertainment system. There are also several packages available, most especially the Off-Road Package, which adds adaptive damping, skid plates, and two locking differentials. The GL320 CDI comes standard with:
18-inch alloy wheels
rain-sensing wipers
electric closing assist for rear tailgate
load-leveling rear suspension
wood interior trim
COMAND interface
six-disc CD changer
The GL450, the highest trim level, makes the addition of the following standard features:
navigation system
seats with memory
park assist
satellite radio
Cheers,
Fashun Guadarrama.
About the Author: Austin-1