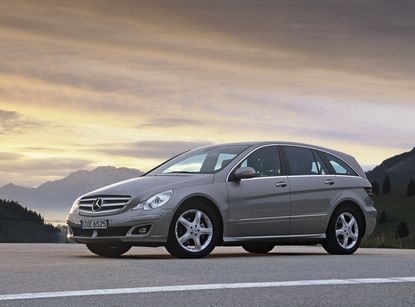 Be it that the the vehicle is costly, the 2007 Mercedes Benz R Class is still not one to be overlooked when searching for a good choice of a family car. Like any release by Mercedes Benz, the R Class has very little wrong with it, and finds itself hovering at the top of its class, with its sole forbidding feature being the MSRP. Still, this six passenger ride is competent and luxurious, an excellent pick for buyers looking needing something that offers what they need that isn't a minivan.
The Good:
six passenger space
lots of engine options
has everything that a minivan offers but with some style and flavor to boot
The Bad:
low torque is lacking in the gas V6 engine
the rear doors are lengthy and weigh too much
costs too much for what it offers
A couple of additions have been made to the Mercedes Benz R Class in the 2007 model year, including the addition of two more trim levels, the R320 CDI and the R63 AMG. The R63 AMG is the high performance trim level of the R Class and is equipped with powerful performing features, such as its V8 that sports 503 horsepower. The R320 CDI comes with a diesel fueled engine, which makes for better fuel efficiency.
A full sized luxury wagon, the 2007 Mercedes Benz R Class seats six and comes in four trim levels: the R350, the R320 CDI, the R500, and the R63 AMG. There isn't much difference between the R350 and the R320 CDI except for their engines, and both come standard with:
17-inch wheels
dual zone automatic climate control
heated outside mirrors
rain sensing wipers
COMAND interface
maple wood trim
The next leap forward brings us to the next highest level, the R500, which is equipped with a 5.0 liter engine, and adds the following standard features:
heated front seats
18-inch wheels
After that we have the highest trim level, the high performing option, which is the R63 AMG, which comes standard with:
sport tuned air suspension
stronger brakes
sport seats
20-inch wheels
Lots of options can be purchased to add on to any of these trim levels. There are stand alone options, such a Panorama sunroof, adjustable air suspension, leather upholstery, rear seat heaters, and a satellite radio. There are also some pricey packages offered, including the AMG sport styling package, which brings 19-inch wheels.
Cheers,
Fashun Guadarrama.
About the Author: Austin-1