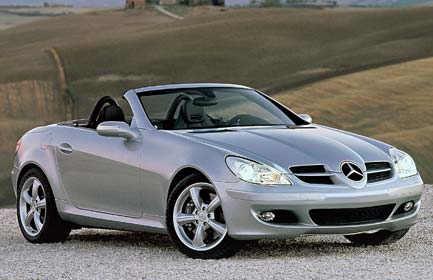 There are certain expectations that come with being under the Mercedes Benz name. They automatically give a vehicle a head start, even before a buyer looks at their individual qualities. The price tag alone is enough to make these cars unattainable to many, and thus even more desirable. The 2007 Mercedes Benz SLK Class fulfills these expectations, such as the great design and typical Mercedes fare. But it also goes beyond that, delivering amazing performance that will knock many Mercedes Benz fans off their socks.
The Good:
handles with precision
well designed
comfortable
retractable hardtop roof
wide range of powerful engines
The Bad:
if you put up the top, there are some large blind spots
extra cost
stiff steering
Nothing is new for the Mercedes Benz SLK Class in the 2007 model year. No, this two-seater roadster comes with the same three trim levels for 2007: SLK280, SLK350, and SLK55 AMG. The base level, the SLK280, comes standard with:
nine speaker sound system
16-inch alloy wheels
dual zone automatic climate control
tilt and telescope wheel
leather upholstery
The next level above, the SLK350, shakes things up a bit with its V6 engine, and also adds the following as standard features to the line up:
bigger brakes
17-inch wheels
At the top of the line is the high performance trim level, the SLK55 AMG, which switches to a powerful 5.5 liter V8 engine and comes with the following standard:
high performance tires
even bigger brakes
18-inch wheels
sport-tuned suspension
power heated seats
napa leather upholstery
Lots of the features that come standard with the SLK55 AMG are considered options for the two lower levels. There are several other options available besides those, though, such as design color themed packages, a navigation system, bi-xenon headlamps, satellite radio, and an Airscarf system that heats the active head restraints.
The 2007 Mercedes Benz SLK Class is lacking in one important area, and that is that of safety features. Although it does come with a few, they fall far behind the number standard in many vehicles, and with a roadster safety is very important. The safety features included are knee and seat mounted air bags, stability control, TeleAid, antilock disc brakes, and traction control.
Cheers,
Fashun Guadarrama.
About the Author: Austin-1