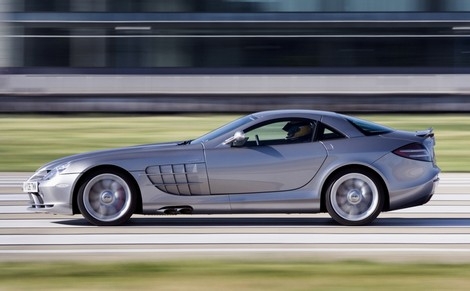 A feisty sports car from the Mercedes Benz make, the 2007 SLR McLaren just looks fast. Its distinctive body style is especially designed to cut through the wind and let the pressure roll over it. It may not be the most practical car for every day use, but this difficult to classify hot number isn't really worried about that. It's hard to decide whether it fits into the class of luxurious sports car, or rises even further above that into he world of grand touring. Still, for a car that can go at record breaking speeds, that's not the thing that you're going to be thinking about when pressing your foot down on the gas.
The Good:
very safe for drivers and passengers, especially for its class of cars
specialized design
acts like a supercar
The Bad:
lots of racket from wind and road
no option for manual transmission
over sensitive brakes
interior looks a lot like the SL Class
For the 2007 model year, the Mercedes Benz SLR McLaren has been taken apart and put back together again. Now called the '722 Edition', the McLaren unfortunately comes with a scarier price tag. But that shouldn't put you entirely off of it. It's more powerful than ever before, with a redesigned suspension tuning and redone exterior that makes it look just like you feel when you have that need for speed.
A two-seater performance level coupe, the 2007 Mercedes Benz SLR McLaren only comes in one trim level, that being the "722 Edition". This trim level, though, is extremely equipped with standard luxury features, such as:
nineteen inch wheels
bi-xenon HID headlights
high performance tires
carbon-fiber sports seats
Bose surround sound
six-disc CD changer
dual zone automatic climate control
adaptive cruise control
Unlike many high performing cars in its class, the SLR McLaren makes protection a priority. This isn't set in stone, though, as no crash tests have yet been done on the 722 Edition, but it still seems sure that it will perform very well. It's made of of strong, light carbon fiber, like a race car, which provides extra protection. It is also equipped standard with brake assist, side and knee protecting air bags, TeleAid, carbon-ceramic antilock disc brakes, and electronic stability control.
Cheers,
Fashun Guadarrama.
About the Author: Austin-1