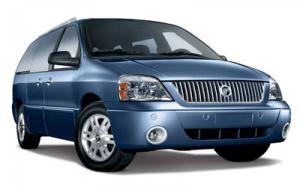 Don't be deceived by the 2007 Mercury Monterey's appearance. Sure, it seems to be a luxury minivan, but when you get down to what it really offers, the only thing keeping it in that class is its price tag. Its engine is short on power, and the handling is sloppy. Aside from that, although some care was put into designing the exterior, similar care was not taken with the interior. Somebody looking for a luxury family vehicle would do well to look to the competition.
The Good:
did well on crash tests
lots of safety features and equipment
well designed on the exterior
The Bad:
V6 lacks power
V6 does badly on fuel efficiency
handles badly
poor materials in cabin
no seating options
no navigation system
The 2007 Mercury Monterey could do with some changes, but it looks like we'll have to wait until the next model year for that, as the 2007 model year brings only one new thing. Though not exactly new, in 2007 the powertrain warranty fort the Monterey has been stretched to five years/60,000 miles.
A seven seater minivan, the 2007 Mercury Montery has only one trim level, named the Luxury. It comes with the following features standard:
16-inch alloy wheels
automatic headlights
dual zone manual AC
driver seat with memory
wood/leather trim
external temperature display
dual power-sliding doors
There are also many options that can be purchased for this minivan, and a couple of packages. Included on the list are a rear seat DVD entertainment system, a power liftgate, and 17-inch wheels. One of the most innovative options is the mobility preparation, of which the Monterey is the first minivan to have.
Cheers,
Fashun Guadarrama.
About the Author: Austin-1