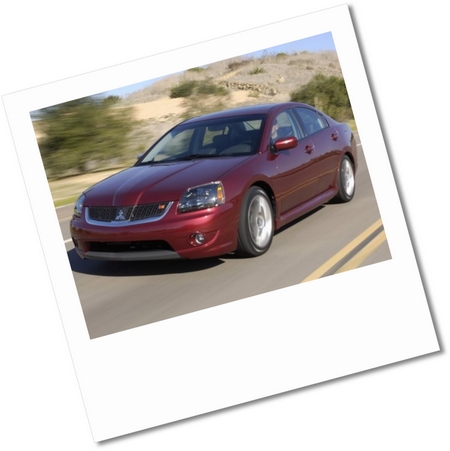 There is very little to the 2007 Mitsubishi Galant that holds it back, but what little that is does keep it from joining with its rivals in the class of family sedans at the very front. It's not a bad car–nowhere near it. But it's list of features is shorter than others and it isn't as practical as a family car should be. Still, seating four it is spacious front to back, fun to handle, and fared great on crash tests scores.
The Good:
fun to drive
great handling
did well on crash tests
great audio options
powerful V6 engine
well designed
comfortable
The Bad:
no manual transmission
no stability control
little room for cargo in cabin
back seat doesn't fold
cheap interior
The 2007 model year brings lots of surface changes for the Mitsubishi Galant, including redesigned grilles and bumpers, as well as a new interior trim. In the area of safety, side curtain airbags are now standard. With the trim levels, both the LS and SE trims are history, replaced with a luxurious Ralliart trim level, which has a sport tuned suspension V6 engine with 258-hp. Some options are navigation system, five speed automatic transmission, and a new sports package.
A midsized sedan, the 2007 Mitsubishi Galant is offered in four trim levels. These levels are the DE, ES, GTS, and Ralliart. The DE comes with the following features standard:
AC
full power accessories
CD player
keyless entry
The ES comes with a few options in packages, which include features like a CD changer, satellite radio, a moonroof, alloy wheels, and leather seating. It makes the addition of, standard:
cruise control
faux titanium trim
The GTS comes with:
V6 engine
17 inch alloy wheels
rear spoiler
leather seating
heated front seats
Finally is the sporty, top of the line Ralliart. It's the only trim level to come with a navigation system, and also adds the following features standard:
powered-up V6
sport tuned suspension
18-inch ally wheels
automatic climate control
satellite radio
moonroof
For both side and front impacts, the 2007 Mitsubishi Galant earned five stars from the NHTSA and a rating of good from the IIHS. It doesn't come with stability control, but it is well-equipped all the same, with full-length side curtain airbags, tire pressure monitor, and traction control.
Cheers,
Fashun Guadarrama.
About the Author: Austin-1