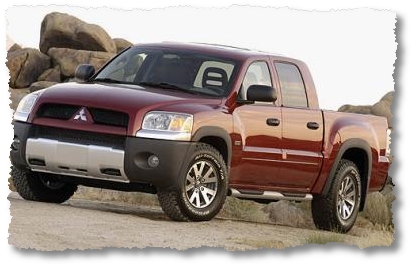 Stop before you decide to purchase the 2007 Mitsubishi Raider. It's a good pick up truck, but before you decide that it's the best one out there, maybe you should give a look at the competition. Other trucks, like the Toyota Tacoma or the Nissan Frontier offer more style and power for a similar price. As for the Raider itself, it has good handling, lots of great engines, space, and tows plenty. So it's a sturdy choice, but shop around before you settle for sturdy.
The Good:
handles with agility
spacious cabin
option for part or full time four wheel drive
great warranty
The Bad:
no option for a long bed body style
plastic too hard on interior
engines not powerful enough
only the highest trim level comes with four wheel anti lock disc brakes
The 2007 model year brings some significant changes to the 2007 Mitsubishi Raider. Two new levels have been added: the Double-cab and the extended cab. The SE trim level comes along later in the model year to take the place of the now gone XLS level. At the beginning of the model year, the only engine option is the somewhat weak V6, but later on comes a more powerful 4.7 V8 engine for the SE.
There are two body styles and three trim levels available for what is the midsize pickup, the 2007 Mitsubishi Raider. The body styles as Double Cab and extended cab, Double Cab being Mitsubishi talk for a crew cab. The trim levels are the LS, the Durocross, and, later on, the SE. The LS comes standard with:
16 inch tires
front bench seat
AC
privacy glass
Then there is the next level up, the Durocross, which is as far as you can go at this point of the model year, and adds:
16 inch alloy wheels
Bluetooth
power rear windows
leather wrapped steering wheel
bucket seats
heated mirrors
Finally, later in the model year comes the top of the line SE which makes an addition of:
17 inch chrome wheels
V8 engine with lots of power
better audio system
leather upholstery
seat heaters
Cheers,
Fashun Guadarrama.
About the Author: Austin-1