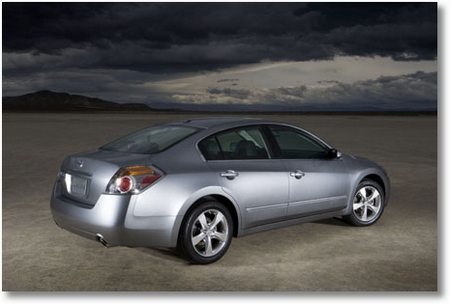 With its sleek, rounded features and fun feel, the 2007 Nissan Altima Hybrid is Nissan's first jump into the hybrid market. It was a good thing, then, that Nissan chose one of its best models in its entire line up, because the Altima is strong enough to hold its own, hybrid or no. This new vehicle is both sport and enjoyable, but its main feature is its mind-blowingly high fuel economy, which comes as a given with its hybrid system. Buyers looking for the reliability of the Nissan Altima and a greener option for the road would do well to take a look at the 2007 Nissan Altima Hybrid.
The Good:
well designed cabin
quality materials
great on fuel efficiency
lots of interior space
steers acutely
The Bad:
coming out in only eight states
option packages are expensive and there are no stand alone options
backseat only moderately comfortable
The 2007 Nissan Altima Hybrid is being released on a limited scale for its very first time in the 2007 model year. Expectations are that if things go well this year, it will be released on a wider scale in the year to come. It is very similar to other Nissan Altima models, with the biggest thing that sets them apart being very obviously its hybrid powered engine, which couples gasoline run engine with electronic capability to save gas and reduce emissions.
A midsize sedan, the 2007 Nissan Altima Hybrid only comes in one trim level, with 198 horsepower and 42 miles per gallon in the city, and thirty six on the highway. The features it comes equipped with standard are:
dual zone automatic climate control
keyless entry
remote start
16 inch wheels
tilt and telescope steering wheel
cloth seats
six speaker sound system
There are several option packages that are available, although they are often expensive. First is the Convenience Package, which comes with automatic headlights, a leather wrapped steering wheel, and a rear spoiler. Then there is the Connection Package, which brings with it Bluetooth connectivity and a moonroof, as well as HomeLink and an auto-dimming rearview mirror.
Cheers,
Fashun Guadarrama.
About the Author: Austin-1