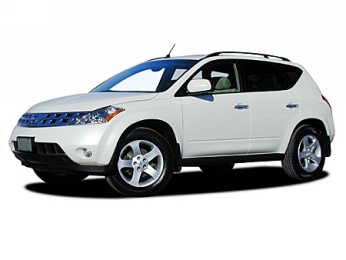 Although the continuously variable transmission, a Nissan make, has been one of the good points of many of Nissan's other 2007 releases, when it comes to the sports utility vehicle class, perhaps it was better left well enough alone. The CVT takes away the power that is one of the most important aspects for an SUV, especially a crossover SUV which has to prove more than others that it has not compromised its rugged ability. Still, the 2007 Nissan Murano has made a name for itself among the competition. Well designed and nimble, it remains a great choice.
The Good:
handles with verve
comes with plenty of safety features for no extra cost
well designed interior
extra comfort
great V6 engine
The Bad:
V6 engine taken down a notch by the CVT
SE trim level ride is uneven
no option for stability control for S model
Not much has been added in the 2007 model year for the Nissan Murano. Only a couple of features come new with the year, such as a tire pressure monitoring system, which has been made standard, and some seatbelt warning lamps which are included as an option. There are still some changes that ought to be made to the Murano, especially concerning its power and performance, and we look forward to seeing what the 2008 model year will bring.
The 2007 Nissan Murano is a crossover SUV that can seat five passengers, and it is available in three trim levels: the S, which is the most luxurious, the SL, and the SE which is the sporting option. The S comes standard with:
full power accessories
18 inch wheels
four speaker sound system
cloth seating
dual zone automatic climate control
The next level up is the SL, the mid level trim, which makes an addition of the following features in standard:
power lumbar
auto dimming rear view mirror
six speaker sound system
At the highest point is the sporty option, the 2007 Nissan Murano SE trim level, which adds:
rear view camera
sport tuned suspension
xenon headlights
Only a few options can be got with the S trim level, but the other trim levels have quite a few choices. There is the Touring Package which can be purchased for the two highest levels, and that comes with a sunroof, keyless ignition, heated front seats, heated mirrors, and leather upholstery, as well as CD changer. Other options, such as DVD entertainment system and a navigation system, are available.
Cheers,
Fashun Guadarrama.
About the Author: Austin-1