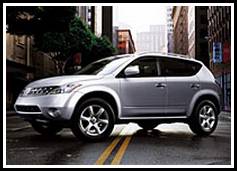 With SUVs looking more and more like cars these days, some people are a little conflicted as to how they should feel. Is it a good thing, or a bad thing? Well, the 2007 Nissan Murano has no qualms. It is a car-based SUV, and comes the closest to that goal out of all of its partners in the SUV world. It is the epitome of the straddler, holding onto various sports utility vehicle features like its drive and its ability to hold cargo, while being comfortable, soft, and family friendly.
The Murano come in three levels, starting just under thirty thousand dollars and not making it above thirty two thousand. All of them are equipped with a roaring 3.5 liter V6 engine with Nissan's Xtronic continuously variable transmission, so its good for those who are comfortable with automatic or standard or both.
The Murano S comes with dual zone climate control, keyless entry, adjustable back seats and front seats, tire pressure monitor, and 18 inch alloy wheels. It comes with several options, like the Convenience package which brings some roof rails and a cargo net, and makes the driver's seat so adjustable it might as well be a spinning top.
The SL starts out with its driver's seat that adjustable, and improves on the S with its better audio system and steering wheel controls. It also has a compass and fog lights for your travelling, a universal garage door opener for your coming home, and an alarm system for when you're not watching. The SE firms it up with a sport-tuned suspension, and adds dark silver low bumpers and xenon headlight.
The SL and SE have several options, including:
Premium package: Bose stereo and subwoofer, satellite radio.
Sunroof package: premium package with sunroof.
Leather package: leather upholstery with sunroof package.
Touring package: all of the above, as well as memory in the front
seats, heated mirrors, HID headlights, and Intelligent Key.
DVD navigation system
rear seat DVD entertainment system
The Murano comes with standard safety features as well as a unique rollover sensor which helps prevent rollovers and electronic brake force distribution. Passing its crash tests with flying colors, this vehicle is one to follow.
Cheers,
Fashun Guadarrama.
About the Author: Austin-1