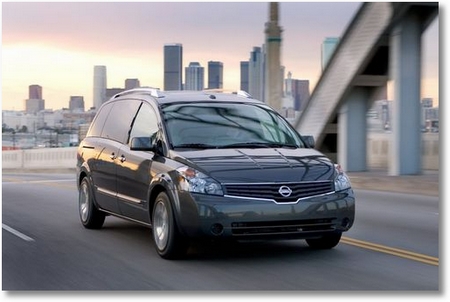 The main thing that the 2007 Nissan Quest has to offer that a lot of other minivan options can't give you sheer style. Not like your regular minivan, which is rounded and practical, the Nissan Quest has sheered off its edges and been designed to both look and feel good to drive. If you're tired of the minivan market but at the same time are a buyer that needs something in which to take their family around in, the 2007 Nissan Quest offers a catchy alternative to the minivan norm.
The Good:
glass roof system
back seats fold down flat
ready to go V6 engine
responsive steering wheel
does great on crash tests
spacious interior
The Bad:
no option for split third row seat
not a lot of room for storage in the back
option for stability control only with some trims
the price of the options hurts
No major changes have been made for the 2007 Nissan Quest since its last release, but there have been enough touch ups and additions to make it seem fresh and new on the market. Most of this change takes place on the interior. The center stack which had been designed like a pillar and not very well liked is now thankfully gone, kicking all of its accoutrements over to the instrument panel. The headrests on the seats now are auto folding, and there is more cargo room than before, although this is still minimal. Brand new options include a CD changer, Bluetooth connectivity, and a backup camera.
Where the 2007 Nissan Quest performed its best is in the area of crash tests. In government crash tests that were undergone, it took the full five stars on all types of impacts. As for the crash tests conducted by the Insurance Institute for Highway Safety, the minivan went through frontal offset and side impact tests, and was awarded with the highest rating, that of 'good'.
And for a good reason. After all, the 2007 Nissan Quest does come well equipped with most of the major safety features necessary on a modern vehicle. In standard, these trim levels come with active head restraints which auto fold, side curtain airbags that protect all passengers, even those in the back rows; a tire pressure monitoring system; antilock disc brakes; and brake assist. Coming standard for the SE trim level and as an optin for the SL are side impact airbags and a stability control system. Only optional for the SL and SE are run flat tires.
Cheers,
Fashun Guadarrama.
About the Author: Austin-1