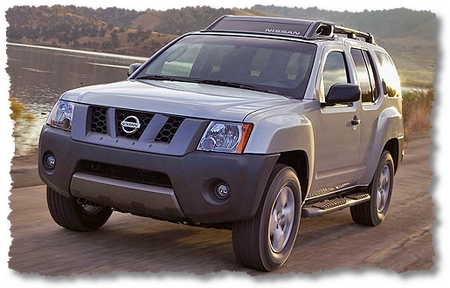 It's hard to get a good, no, a great sports utility vehicle when you're working with a tight budget. Normally, to get the best features and everything that you really want from an SUV, you have to be willing to spend a little more, and for many people that just isn't possible. Nobody wants to have to compromise quality for price, but sometimes it's necessary. The 2007 Nissan Xterra removes that necessity, offering buyers an SUV that is both inexpensive and doesn't compromise on quality, providing comfort and all terrain excellence in a well designed package.
The Good:
strong V6, one of the best
off the road strength better than most
plenty of space for passengers
different cargo design
The Bad:
better off the road than on it
cabin covered in cheap plastics
Not much has changed in the 2007 model year for the Nissan Xterra, but it does receive a few little upgrades worth noting to the potential buyer. For the 4×4 trim levels of the Xterra, all now come with standard mudguards, and the Off Road trim levels are standard with a leather wrapped steering wheel and a holder for your sunglasses. Standard with the SE trim level come some new body moldings.
The 2007 Nissan Xterra is a mdsize sports utility vehicle that seats five passengers and comes available in four trim levels: X, S, SE, and Off-Road. You can get the S, S, and SE in four or two wheel drive, and the Off Road in four wheel drive with no option for two wheel drive. The first three trim levels are very short on features in options, though, only offering amenities like air conditioning and a CD player. It doesn't really get good until the top of the line Off Road, which comes with:
high performance gas shocks
locking rear differential
hill descent control
hill start assist
The 2007 Nissan Xterra did decently in crash tests, getting only an acceptable from the Insurance Institute for Highway Safety, but all five stars from the National Highway Traffic Safety Administration. It comes with such standard features as electronic stability control and side impact airbags for the front seats.
Cheers,
Fashun Guadarrama.
About the Author: Austin-1