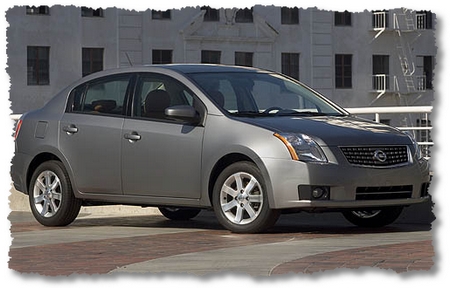 Sometimes, being the tall guy can get frustrating, especially when it comes to buying a car. Most cars just aren't designed to feet the angular figure of many tall people, and nobody can enjoy the driving experience when their head is bumping constantly against the roof of the cabin of their car. The 2007 Nissan Sentra offers a friendly alternative to drivers who are on the tall side, but they will have to sacrifice many oter perks to get this desired salvation. Even though it might have some more head space, the 2007 Nissan Sentra lacks enjoyment and comfort that come with many of its rivals.
The Good:
well-designed cabin
lots of space
drives silent
accelerates well in SE-R Spec V trim level
The Bad:
engine for the base model makes some racket at higher speeds
SE-R trim levels don't handle well
shifts clumsily
For the 2007 model year, the Nissan Sentra model has been redesigned from top to bottom, with many changes that bring it up to date, but unfortunately not enough to make it a good prospect for competition among its rivals. It still has a long way to go. For this year, though, it has added a new engine, increased its interior space, and added several features both standard and optional. Older sport geared trim levels are back, too, in the middle of the model year.
The 2007 Nissan Sentra, a five passenger sedan, comes in five trim levels: base, S, SL, SE-R, and SE-R Spec V. The base trim is the lowest of them all, and as usual to all base trims that aren't granted their own trim level name, it comes with only a few features:
fifteen inch wheels
AC
four speaker sound system
Then there is the S, which brings with it:
16 inch wheels
keyless entry
power mirrors
After that is the SL, which adds:
leather upholstery
leather wrapped steering wheel
keyless ignition
cruise control
alarm system
The SE-R is a lot like the SL, with the only difference being that you can buy more options of rit. Finally is the SE-R Spec V, which is the sporty version of the 2007 Nissan Sentra, and comes with:
summer tires
firm suspension
bigger brakes in front
Safety is not a big deal for the 2007 Nissan Sentra, and it is only equipped with some basic air bags and, on the higher models, anti lockdisc brakes, and at the top, four wheel disc brakes. No crash test results available for this Nissan model.
Cheers,
Fashun Guadarrama.
About the Author: Austin-1