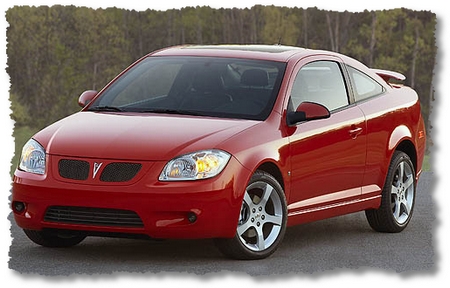 Preceded by the Pontiac Sunfire, the 2007 Pontiac G5 offers vast improvements and makes its ancestor look pathetic with its skills. It is modeled mostly after the Chevy Cobalt, though, so many of its qualities could easily be found exhibited by that car, with little difference. Its first year on the market is the 2007 model year, so it will have a hard time proving itself among all of the year's great new releases and old returns. It's better than what came before, but worse than all the cars around it, especially in such important areas as handling and enjoyability.
The Good:
accelerates decently
drives silently
does well on crash tests
The Bad:
cabin decorated with hard plastics
not a lot of room in the rear seat
handles poorly
A compact coupe, the 2007 Pontiac G5 comes in two trim levels, the base or GT. The base comes standard with:
15 inch wheels
AC
full power accessories
keyless entry
split level rear seat
rear spoiler
The GT takes things up a notch, with:
sport tuned suspension
leather wrapped steering wheel
fog lights
17 inch alloy wheels
satellite radio with one year XM subscription
shift knob
For the base car, many of the things that come standard with the GT are available as options for a little extra. Also, some 16 inch alloy wheels can be added to the base trim level. For both trim levels, there is a six disc CD changer, Pioneer sound system, OnStar navigation system, and a remote starter. There are a couple of packages that come along, such as the Sun and Sound Package, which brings a sunroof and the Pioneer sound system, and the Premium Package, which adds heated front seats, leather upholstery, and, again, Pioneer.
Cheers,
Fashun Guadarrama.
About the Author: Austin-1