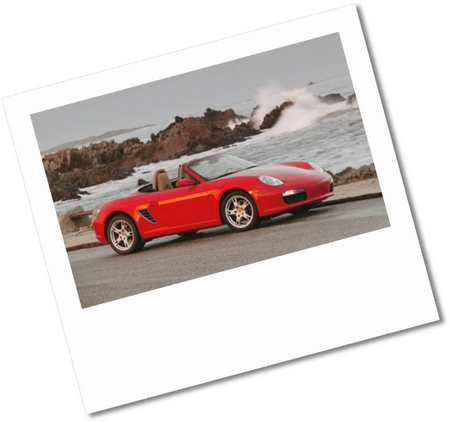 There are great sports cars, there are bad sports cars, and then there is a very small selection of sports cars that can only be described as sports cars on the rocks. These vehicles are purely made, with no influence from outside models. They are, in essence, the epitome of sports cars, the way that the perfect sports car looks in your head before you put it on paper. The 2007 Porsche Boxster is one of these cars. It is powerfull, but not too much so, and beautifully designed. Not only is it fit for showing off on weekends, but it's practical as well.
The Good:
best handling ever
brakes great
accurate steering
can actually store stuff in the trunk
power roof slides in and out rapidly
The Bad:
lots of money went into this so you can pay lots of money out for it
confusing controls
2.7 liter engine has subpar low end torque
a bit of noise on the highway
This isn't the major redesign year for the 2007 Porsche Boxster, but that doesn't mean that changes haven't been made. Actually, there is plenty new in the 2007 model year, most significantly a couple of extra liters added to the old 3.4 liter engine, giveing another burst of power to this sporty vehicle that brings it up to 245 hp. Five more hp are given to the 2.7 liter engine. The Tiptronic S automatic transmission, a popular option, has brand new and better hydraulics and is much more quick and accurate. Now standard is a tire pressure monitoring system.
A sports car, the 2007 Porsche Boxster is available in two trim levels, the base one and the S. They look almost the same, although some red calipers and open exhaust outlets have been added to the S for some distinguishment. Standard to the 2007 Porsche Boxster are:
17 (18 for S) inch wheels
12 second power top
leather trim
seven speaker sound system
No crash tests are available for the Boxster, but it does come equipped with several standard safety features. Some of those included are electronic stability control, antilock disc brakes, tire pressure monitor, traction control, and rollover safety bars.
Cheers,
Fashun Guadarrama.
About the Author: Austin-1