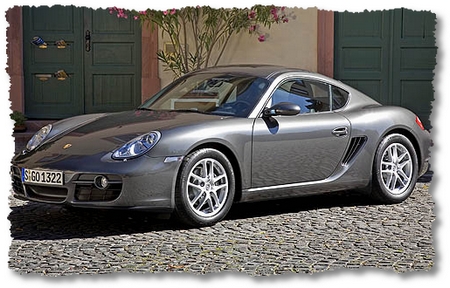 Porsche has always been the dream of people who like sports cars and wish they could get their hands on some of the best of them. The relatively low prices involved in the selling of the 2007 Porsche Cayman might actually make that dream a reality to some of these frugal car shoppers. The Cayman is one of Porsche's few vehicles in a lower price range, and is also one of the best performing cars that it offers. This small, well designed sports cars is living up to the Porsche history.
The Good:
handles best
accurate steering
well designed
plenty of cargo space
hard line brakes
The Bad:
pricey options
confusing controls
performance good, but not exceptional
A midengine sports car, the 2007 Porsche Cayman comes available in two trim levels, one of them the base and the other a new addition for the 2007 model year, the Cayman S. The base level of the 2007 Cayman comes with the following features standard:
17 inch alloy wheels
cruise control
full power accessories
trip computer
The next level up, the new Cayman S trim level, adds:
larger engine
18 inch wheels
nine speaker sound system
bigger breaks
metallic gauge faces
These cars don't come very well equipped in standard, which is why things are made especially difficult by the high option costs. There are a lot of options though, including heated seats and a navigation system. There are several packages that can be added on, such as the Sport Chrono package, which improves the suspension and response time.
Cheers,
Fashun Guadarrama.
About the Author: Austin-1