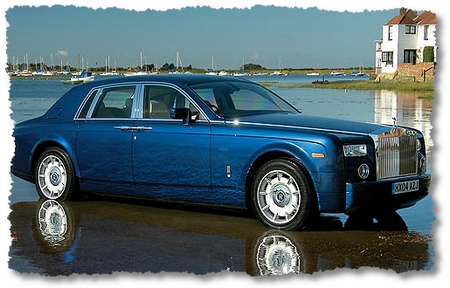 Once you get to the highest luxury levels of cars, you don't really find a lot of problems. These manufacturers don't have the luxury of making mistakes with their cars, and with all that revenue, they are able to pay as many people as they like to come up with the most innovative solutions to normal car problems. The only competition up here is who's prettier, and who's the best at being the best. The Rolls Royce Phantom doesn't have some of the nifty gadget that makers like Maybach overflow with, but when it comes to the ride and the name, there's nothing stopping this one.
The Good:
plenty of over the heels comforting features
unique style
drives great
simple to customize
The Bad:
calls attention to itself
complex controls
Not much has changed for the 2007 model version of the Rolls Royce Phantom, considering that not much was wrong with it in the first place. However, for this model year some small changes have been made, such as a new version with a long wheelbase, called the EWB, giving the rear seating area ten more inches of space. New blue chrome metal surfaces for the cabin and an auxiliary audio input jack add to the style.
A fullsized ultraluxury sedan, the 2007 Rolls Royce Phantom comes in two trim levels, the regular and the long wheelbase. These come with the same features standard, which are pretty much anything that a luxury car can offer, including:
bi-xenon HID headlights
20 inch wheels
parking sensors
power closing doors
full power accessories
four zone automatic climate control
surround sound audio
navigation system
Bluetooth
CD changer
Then there are the options, which are especially over the top, with 21 inch wheels as the main one, as well as a DVD entertainment system and a sunroof. A console can be added to the back seat for two people, making it even more personalized than before. There are plenty of ways to make the 2007 Rolls Royce Phantom really your own, by customizing things like color and trim.
Cheers,
Fashun Guadarrama.
About the Author: Austin-1