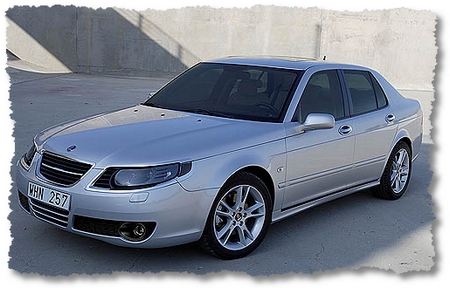 One of the areas where Saab continuously falls behind is that of style, and with the 2007 Saab 9-5, it proves yet again that it hasn't quite caught up with contemporary vehicle design. All the same, there are many people that appreciate Saab's old time styling, and some will be drawn to the 9-5, which sticks to that style. This midsize car, though, is lagging behind its competitors in the areas of luxury and performance.
The Good:
lots of features that come standard
comfortable front seats that you can sit in forever
lots of room for storage
user friendly controls
The Bad:
turbo four needs some fixing up
uneven ride
lots of sound from outside the cabin
cheap cabin materias
no option for airbags to protect rear passengers
Either a sedan or a wagon, depending on your choice of body style, the 2007 Saab 9-5 comes available in only the one trim, which has the following features in standard:
17 inch alloy wheels
moonroof
leather seating
heated front and back seats
cooled glove compartment
dual zone automatic climate control
heated mirrors
six disc CD chager
auto dimming mirrors
rain sensing wipers
There are also plenty of options. Some of these come in packages such as the Aero package, which takes the place of last year's Sport Package. The Aero package comes with a sport tuned chassis and spors seats. On their own, there are many more options, such as OnStar from General Moters, ventilated front seats, and rear park assist.
Cheers,
Fashun Guadarrama.
About the Author: Austin-1