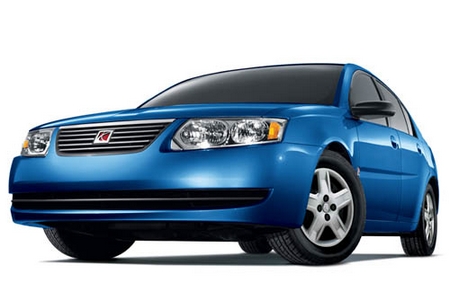 Saturn has long been at the top of the manufacturer list when it comes to things like durability and bargain pricing, but the cheap price tag and the long lasting body doesn't make it the best option, although reliability should always be taken into consideration. There are plenty of other vehicles in the 2007 Saturn Ion's class that leap straight over it in aspects such as how it handles and how it feels.
The Good:
cheap
dealers are there for you
lots of cargo space in trunk
rear access doors a great idea on coupe
Red Line trim performs great
The Bad:
not much space in back seat
disorienting instruments
did badly on side impact crash tests
poor cabin materials
2007 doesn't bring total change to the Saturn Ion, but it does come with some pretty big ones. The best and most important is the power pump that the Ion gets for the new model year. Both of the engines on the line up get five more horsepower than last year. In addition, the warranty for the powertrain goes on a little longer at five years or 100,000 miles.
Coming in either small sedan or quad coupe, the 2007 Saturn Ion is available in three trim levels: 2, 3, and Red Line. The coupe is called a quad coupe because it includes two reverse access doors to increase the discomfort of trying to transport people and cargo from the outside to the back seat. The 2007 Saturn Ion 2 comes with the following features standard:
power locks
OnStar
CD player
It's not exactly well equipped, I suppose, but then it's hard to find a car with a huge list of features for only $12,000. The next up onthe line up is the 2007 Saturn Ion 3, which adds:
16 inch alloy wheels
anti theft alarm system
Finally is the top of the line sport option, the Red Line, which you can only get in the quad coupe body style. It comes with:
stronger engine
sport tuned suspension
antilock brakes
traction control
rear spoilers
17 inch alloy wheels
performance tires
leather sport seats
The 2007 Saturn Ion did the worst out of all of the cars I have reviewed on car crash tests. It didn't exactly fail, but with a little bit of attention paid, it's really not that hard for a vehicle to get the highest score. The Ion, though, only got an acceptable from the IIHS for frontal impact and a poor for side impact. In the government crash tests, it received three stars for the sedan and four for the coupe.
Cheers,
Fashun Guadarrama.
About the Author: Austin-1