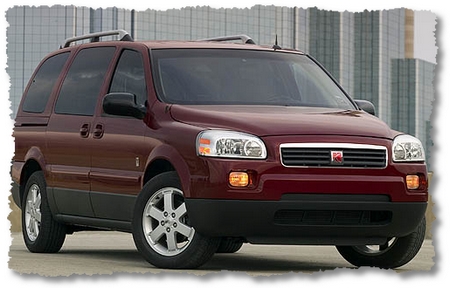 It's hard to find the right minivan, and when you have a family to deal with sometimes it just takes to much time to make the right decision. Many people just go for a choice based only on things like space and safety, but there is so much more. The 2007 Saturn Relay does look good and unique, almost like a minivan that wishes it were an SUV, but it's lacking in many areas. Things such as refinement and safety aren't met in this vehicle.
The Good:
rides with ease
lots of space for interior storage
great multimedia storage
The Bad:
turns wide
doesn't provide airbag protection for third row seat
did badly on side impacts
Some insignificant changes have been made to the Saturn Relay minivan for the 2007 model year, such as the move to being standard for the 3.9 liter V6 engine with 240 horsepower. Stability control joins the V6 as standard on all trims. The old option for all wheel drive is no longer there, which is a big disappointment. The Relay is cheaper this year, but some desired features such as a DVD entertainment system are gone to make way for that bargain price.
A minivan, the 2007 Saturn Relay is available in three trim levels with uninteresting names. The base trim comes standard with the following features:
AC
full power accessories
OnStar
eight speaker audio system
The second trim level comes with the next features:
DVD entertainment system
tinted glass
cruise control
remote entry
heater mirrors
rear wiper
Then is the top of the line level, which adds:
dual zone automatic climate control
alloy wheels
power rear evnt windows
leather wrapped steering wheel
second row captain's chairs
power sliding passenger side door
alloy wheels
more cargo room
One of the most important things on a family vehicle, though, is safety, and the 200 Saturn Relay pretty much fails in this area. It got almost the lowest score on the Insurance Institute for Highway Safety crash tests, coming away with a marginal. It is really hard to score low on these tests with all of the safety options available out there, but the Relay did it again on government crash tests. It does come standard with things like traction control, antilock disc brakes, and stability control, but most other safety features are optional.
Cheers,
Fashun Guadarrama.
About the Author: Austin-1