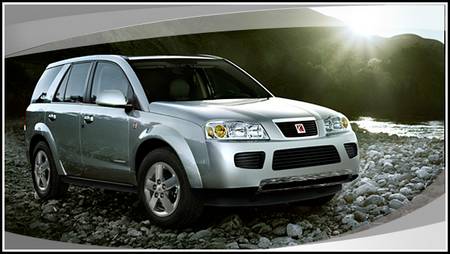 The Saturn Vue was one of the first sports utility vehicles, back in 2002, that began to become more use friendly and make the 'sports' part of its name sound obsolete. It was less equipped for off road mayhem and more tailored for driving down city highways and quiet suburban streets. It is a family SUV, and not a mudsliding one, and its image is now reflected by SUV makers everywhere. It saw into the future, and now it fades into the present.
Still, the Vue has a lot to show for its seniority, and it comes make in 2007 with a more mature total package, seating five passengers and carrying a 2,4 cylinder 170 horsepower four cylinder engine with a battery powered electric motor as a companion. Called the Saturn Vue Green Line, this new hybrid version of the Vue not only saves on fuel economy and gives out cleaner emissions, but it ups the horsepower from the non-hybrid version of the Vue and costs only about three thousand more.
Then there's the Saturn Vue Red Line, which is a sportier, more street-savvy version of the vehicle, with 18 inch wheels and a hungry suspension calibration and the option for a V6 engine. This one is about power and performance. It can either come with the 143 hp 2.2 four cylinder engine, or, if preferred, the much more powerful 3.5 liter V6 with 248 horsepower. With electric power-assisted steering and an individual interior, this level of the Saturn Vue offers a funner, more aggressive driving experience.
The base model of the Vue comes with the 2.2 liter engine, and costs a little less than eighteen thousand. It comes with a five speed manual transmission and a anti-theft system, as well as a four speaker sound system, power locks and windows, and cruise control. For a couple thousand dollars more, you can upgrade this to the automatic transmission. The Saturn Vue V6, at a little over $22,000, ups the ante a little by adding bette upholstery and a more intelligent anti-theft system, as well as two more speakers to the sound system.
OnStar comes with all of the models, and they also include the standard safety airbags. Besides that, they also have front-wheel disc brakes, rear drum brakes, anti lock brakes–basically, every kind of brake protection possible. There's also traction control, but electronic stability costs you a little more. In all of its front and side collision experiments, the Vue has come away with a consistent five star rating.
Cheers,
Fashun Guadarrama.
About the Author: Austin-1