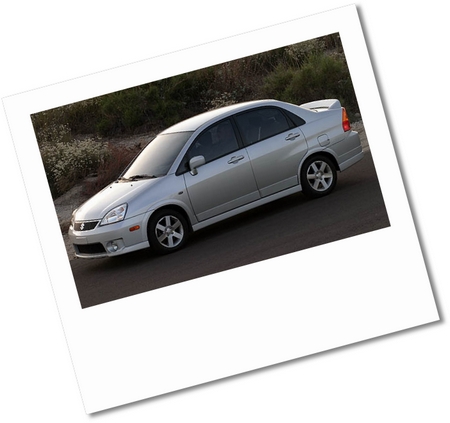 If you're living in an area where the weather doesn't always treat you right, then you might want to look into getting this bargain priced 2007 Suzuki Aerio. A tough little sedan, the Aerio is among the cheapest vehicles equipped with all wheel drive and may be the only option for people who need a car that can handle the conditions that get thrown at it, but can't afford some of the more expensive options. It's got an old fashioned style and doesn't have much in terms of refinement, and if you don't have the driving condition problem, then you would do better looking elsewhere for your compact sedan.
The Good:
option to equip with all wheel drive traction
spacious cabin
cheap
long lasting warranty for drivetrain
The Bad:
handles badly
poor interior quality
scores badly on car crash tests
no refinement
A four door sedan, the 2007 Suzuki Aerio comes in two packed trim levels, the Base and Premium. It used to also have an SX wagon option, but this is no longer with us for the 2007 model year. The base level comes with the following standard:
rear spoiler
daytime running lights
automatic climate control
power accessories
remote entry
six speaker sound system
outside temperature display
cruise control
If you get the premium trim level, it comes with all of that as well as:
CD changer
another speaker
heated exterior mirrors
leather wrapped steering wheel
windshield wipers with varying speeds
The Insurance Institute for Highway Safety has uneven ratings for the 2007 Suzuki Aerio. On one hand, it got a good score for its frontal offset test, but a poor one for side impact crash tests, which is the worst score you can get. It did little better in government crash tests, earning four stars out of five for driver protection and three stars for front passenger protection.
Cheers,
Fashun Guadarrama.
About the Author: Austin-1