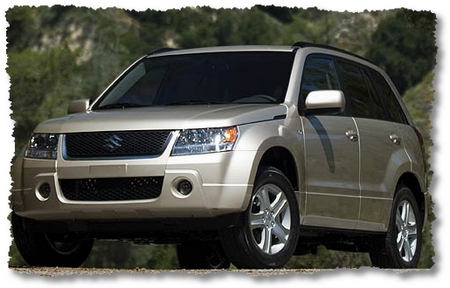 There is endless room on the auto market for the hundreds of mediocre to poor quality sports utility vehicles that try to flaunt their wares every year by showing off old equipment and knocked off style. In that case, then, I suppose the 2007 Suzuki Grand Vitara shouldn't be slighted just for joining the club. Its release of the Grand Vitara is not necessarily a bad think. It isn't a made car, but neither does it have any good qualities that are good enough to be interested in. The power and performance from a lackluster V6 engine, one of the most important aspects of an SUV, just isn't there.
The Good:
well designed cabin
practical
moderate performance
plenty of features
extended warranty
The Bad:
V6 engine makes a lot of noise
slow acceleration
bad fuel economy
not much space for storage
In the 2006 model year, the Suzuki Grand Vitara got its up and down overhaul, so this year the Suzuki makers seem to think that there's not much left to do. I could think of plenty of suggestions for this one. However, there has been added a trip computer and a tire pressure monitoring system.
A small, five seater sports utility vehicle, the 2007 Suzuki Grand Vitara is available in three trims: base, XSport, and Luxury. The base trim level is pretty well stocked for its price, coming standard with:
cruise control
remote entry
dual zone automatic climate control
full power accessories
Then is the next level up, the sporty version, the XSport, which adds:
six disc CD changer
alloy wheels
roof rack
tinted flass
keyless ignition
The top of the line Luxury trim level lives up to its title, adding the following features standard:
moonroof
leather seats
17 inch alloy wheels
heated front seats
The 2007 Suzuki Grand Vitara performed decently on government crash tests, receiving four out of five stars on frontal impact from the National Highway Traffic Safety Administration. It did much better on side impact, where it got the full five stars. As for the safety features it comes equipped with, it has electronic stability control, full length side curtain airbags, antilock disc brakes, and front seat side impact airbags. New in 2007 is a tire pressure monitoring system.
Cheers,
Fashun Guadarrama.
About the Author: Austin-1