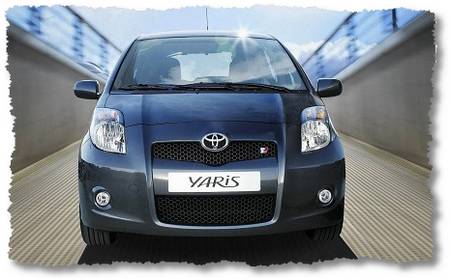 The 2007 Toyota Yaris is another attempt by Toyota to create a car like the Echo that actually sales. The Echo was small with fantastic fuel economy, but made very little money, so they knocked it off the line up and replaced with the Yaris, which is slightly longer and tenser and comfortable in the fact that it's a car without trying to look like sports utility vehicle. This cheap little number eases into the market with the option of both a sedan and a hatchback.
The engine that the Yaris sports is a special 1.5 liter twin-cam four cylinder with VVTi valve timing, and it sports the same struts as the Echo, as well as the same four speed automatic transmission. All of that worked just fine in the Echo, so there's nothing wrong with seeing it come up all over again, but the fact that the Yaris is quite a bit heavier makes one wonder if Toyota made the best judgment here.
Its interior has improved since the Echo, copping into the monochrome scene with a silver interior that is world's away from Echo's jacked up dashboard. The stereo resides up top, above the AC controls, as it well should. although the control panel is a little pressed for space with the addition of an LCD display that looks nice but fits badly.
For a subcompact car, the interior is actually quite roomy, and the trunk can actually stand to fit some cargo. The cushions are a little too lowered and don't make up for the amount of space an adult might take up, and if you tried you could probably stuff three people back there, uncomfortably. It's an improvement on the Echo, but still not quite optimal.
However, it has fantastic fuel economy and easy handling, and it comes at such a great price that many might consider that its setbacks aren't important at all.
Cheers,
Fashun Guadarrama.
About the Author: Austin-1