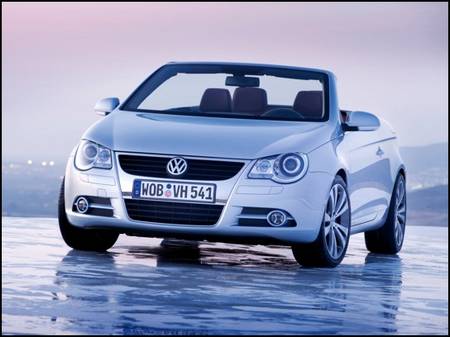 Lots of people like to look at convertibles, but don't want to get one because of their obvious disadvantages. First of all, there's the noise, and then the roof which is both flimsy and easy to break into, as well as weak to water leaking. Manufacturers have largely fixed this problem by replacing the old fabric roofs with metal ones, but they've done so on the luxury end, leaving our average customer who wants a convertible out in the dark. Now, though, the 2007 Volkswagen Eos has come along, making a reasonable convertible a lot more affordable for the rest of us.
The Eos isn't just a convertible, but comes with a sunroof and offers the feel of a coupe a coupe. It's one of the first convertibles with a hard roof to come in at under thirty thousand dollars. When you have the top up, it feels like any other car, comfortable, enclosed, and silent, and with the press of button you can enjoy the whirlwind of nature without having to worry about theft.
The base model comes with a 2.0 liter turbocharged engine and six speed automatic transmission. This is the cheapest model, at a little over twenty seven thousand, and you can't any option with it, but it does come with a lot of safety features.
The 2.0 takes it up a notch by adding a semi-automatic climate control system, and the option of getting it with a six speed DSG automatic transmission. Then there's the 2.0T, which brings in the options. The options are:
17 inch alloy wheels
six-disc CD changer
Sirius satellite radio'
Luxury package: leather seats, leather wrapped wheel, wood trim, Sirius satellite radio, six-disc CD changer, rain sensing windshield wipers
Sport package: sport seats, three spoke multi function steering wheel, all that comes with the Luxury package, and adjustable lumbar support
Then there's the final model, the 3.2L, which comes with almost all of the options listed above, except for the sports package. You can also add 18 inch Samarkand alloy wheels.
Cheers,
Fashun Guadarrama.
About the Author: Austin-1