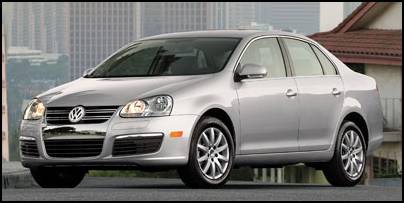 Designed in Germany, the Volkswagen Jetta, and old name in car history, has a lot of the features and traits of a European luxury car. At the same time, it comes in such low prices that it's available to American customers looking for a more economic solution in their car buying. The Jetta's pricing starts as low as just over $16,000.
Redesigned in 2005, the Jetta is still fresh in 2007. A four-door sedan that comes in four models with different engine sizes and features, the Jetta starts off being reasonably priced, but it's price practically doubles once we reach the final model, the GLI.
The base Jetta (the cheapest one) and the Jetta 2.5 (falling just short of $18k) come with a 2.5 liter inline five cylinder engine with 150 horsepower and 170 pound feet of torque and a five speed manual transmission. Both can also be upgraded to a six speed automatic transmission, which comes with a manual shift feature.
The standards with these versions are cloth upholstery, air conditioning, cruise control, CD player, tilt-and-telescope steering wheel, and power locks with a remote. In the 2.5, you'll also get 16-inch steel wheels, wide tires, and the EPS anti-skid system. The options available include
Option package one: higher power audio, six-CD changer, vinyl upholstery, front seat position memory, dual-zone automatic climate control, alloy wheels, navigation system
The 2.0 and GLI have a 2.0 liter turbocharged four cylinder engine with six speed manual transmission and 250 horsepower and 207 pound feet of torque. They also come with direct shift gearbox.
The standards are the folding rear seat, audio controls on the wheel, and the GLI adds sports seats, bi-xenon touches, and alloy pedals. Options include a sunroof, leather upholstery, and dual-zone climate control.
Cheers,
Fashun Guadarrama.
About the Author: Austin-1