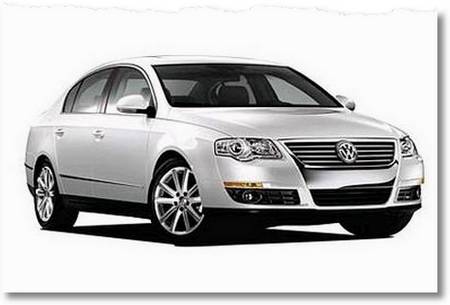 This mid-sized sedan is alike in size to cars such as the Camry and Accord, and while the Passat was updated and made all new for 2006, in 2007 it's fairly unchanged expect for the addition of wagon versions to the model's lineup. It's longer and wider than its predecessors, so that a 6-foot passenger can sit behind a 6-foot driver now without provoking any road rage. The last model was one of the safest cars in the United States, and this version only does more to improve on that.
With precise steering and a responsive six-speed automatic transmission, the brakes are also fantastic on this sedan with a V6 engine. It has great torque and goes from 0 to 60 in 6.6 seconds. With 35.8 feet of cargo space, this sedan has 18/26 city/highway mpg, even with the all-wheel drive, but it's still more easy to take car of than a hulking SUV.
You can get the Passat as either a four door sedan or a five door wagon, and the Wagons are automatic only. Options include an electronic parking brake, power sunroof, Sirius Satellite Radio, 17 inch Le Mans alloy wheels, and heated front seats.
The safety features are extensive. All models come with front airbags as well as side-impact airbags mounted on the seats for the driver and front passenger; curtain airbags on the side; four-wheel disc brakes; ABS; tire-pressure monitor; speed-variable electromechanical steering; electronic stability control; and a security system. You can also add-on rear-seat side-impact airbags for a couple hundred extra.
Overall, this safe, durable car is a great choice for Volkswagen fans, and even though it remains the same as the 2006 version, it's still innovative compared to the competition.
Cheers,
Fashun Guadarrama.
About the Author: Austin-1