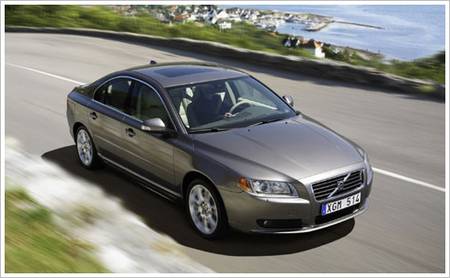 Luxury cars may be all about power and performance these days, but it's still an obvious jump that Volvo's making when it introduces its 2007 S80, a sleek little luxury car equipped with a punch of a V8 engine. A 4.4 liter V8 engine, the same one that powers a few of Volvo's SUVs. The power is made a little more easy to handle by the addition of Volvo's own Haldex, an all wheel drive system that's controlled by the computer. This is the biggest addition to Volvo's S80, but there have certainly been more improvements all around, and for those who don't need that much growl, there's also the option for a new in line 3.2 six cylinder engine. This has a substantial bit of punch as well,with 236 horsepower and the same amount in pound feet of torque.
The Volvo S8 comes in only one model, but with the options of the two different kinds of engines, and within the six cylinder engine option the further option to choose between all wheel drive and four wheel drive. Options for the S80 are:
Sport package: 18 inch alloy wheels, speed sensitive steering, six-CD changer, USB.
satellite navigation system
rear park assist
adaptive cruise control
rear-seat entertainment system
run-flat tires
The safety options include a body that protects, along with anti lock brake system, traction control, yaw control, a big set of airbags all around, and a collision warning system. There's the option for BLIS, which is blind spot informational system and comes with a sensor that warns you if there is a car to the right or left of you that you can't see out of your mirrors, a very helpful device.There's also a Personal Car Communicator, which can lock or unlock your vehicle from up to 110 feet away and can also tell you if your locks are in good shape.
Cheers,
Fashun Guadarrama.
About the Author: Austin-1