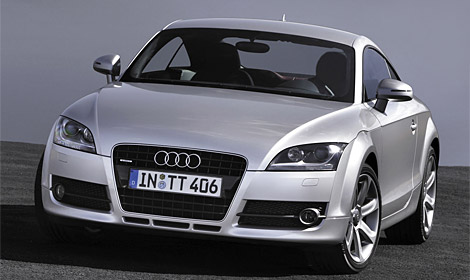 The 2008 Audi TT earns several stars of recommendation. This small car, coming from a manufacturer that is becoming more and more experienced and knowledgeable with the market, combines beauty, competence, and power in either a coupe or roadster that are enviable by many and provide heavy competition for other cars in its class.
On the bright side, the interior is well done and very rich, making driving within it a calming experience. It has a unique design that set it apart from other coupes and roadsters, especially in the roadster body style, which is, needless to say, rather cute, as opposed to the more aggressive looking coupe. It comes with the possibility for all wheel drive, which should definitely be taken advantage of, considering the extra protection that it provides. It also adds a sequential shift manual transmission that can make hardcore automatic fans forget that they ever hated driving stick. Not to mention, the coupe is very useful with its hatchback. Still, its steering leaves something to be desired and the handling doesn't measure up to that of its rivals.
The Audi TT was out of order last year, but this year it comes back with a blast. It has been redesigned from top to bottom and designed better as well. It now has an improved chassis and the addition of an upgraded four cylinder engine. With more length, width, and thus space, its utility of aluminum instead of heavier metals makes it a lighter, quicker car.
You can get the 2008 Audi TT as either a coupe or a roadster, in the levels of 2.0T and 3.2 Quattro, which are named for the type of engine.
Audi TT 2.0T has 17 inch wheels, run flat tires, and a manual top on the roadster; leather seats, tilt and telescope steering wheel, and power accessories.
The premium package makes the roadster's top automatic and gives a six disc CD changer and heated seats and mirrors, for extra
On the 3.2, the premium is standard
Cheers,
Fashun Guadarrama.
About the Author: Austin-1