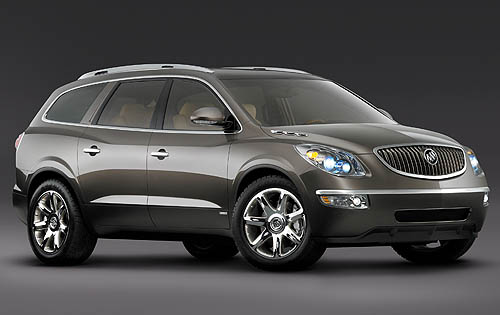 The 2008 Buick Enclave comes with more and better features than most Buicks that have recently come on to the market, and for this reason it has a lotmore to offer to people looking for a good sports utility vehicle than other models from the manufacturer do. The Buick Enclave is roomy, with three rows that will be appreciated by anyone with a big family or who for some other reason is alwas hauling around a lot of people. The cabin has been designed for pleasure, and this sleek SUV makes a great family vehicle.
One of the great things about it is how well made the interior is, with new designs that make it a pleasure to look at and be in. The spaciousness in all of the rows makes them suitable for either children or even adult passengers to sit with comfort. Besides just the amount of passengerseating, it is also poissible to stuff a lot of cargo in the back of this sports utility vehicle, making it a good choice for anyone who has more than just people to haul. Even when it's weighed down, though, the Buick Enclave drives well. Still, some of the material use is cheaply made and there are a few hidden controls that make the driving experience more confusing. The transmission is reluctant to downshift.
In 2008, the Buick Enclave is taking its first march on the stage as a new release, with the ability to fit eight people comfortably and a standard V6 engine with 275 horsepower.
The Buick Enclave comes in two trim levels.
Buick Envlave CX, which comes with eighteen inch wheels, bi-xenon HID headlights, power liftgate, climate control, telescoping steering wheel, and a six speaker sound system, among more features.

Buick Enclave CXL, which comes standard with leather upholstery, nineteen inch wheels, and heated front seats.
There are also several optuons that you can add on for a little extra, which are grouped into many packages. With a total of four entertainment packages, you can get things like a navigation system or a CD changer. Then they have a Driver's Confidence POackage, which comes with remote ignition and heated windshield washer fluid. With the CXL only, you csan add a Luxury Package that comes with adaptive headlights and a tilt-and-telescope steering wheel.
Cheers,
Fashun Guadarrama.
About the Author: Austin-1